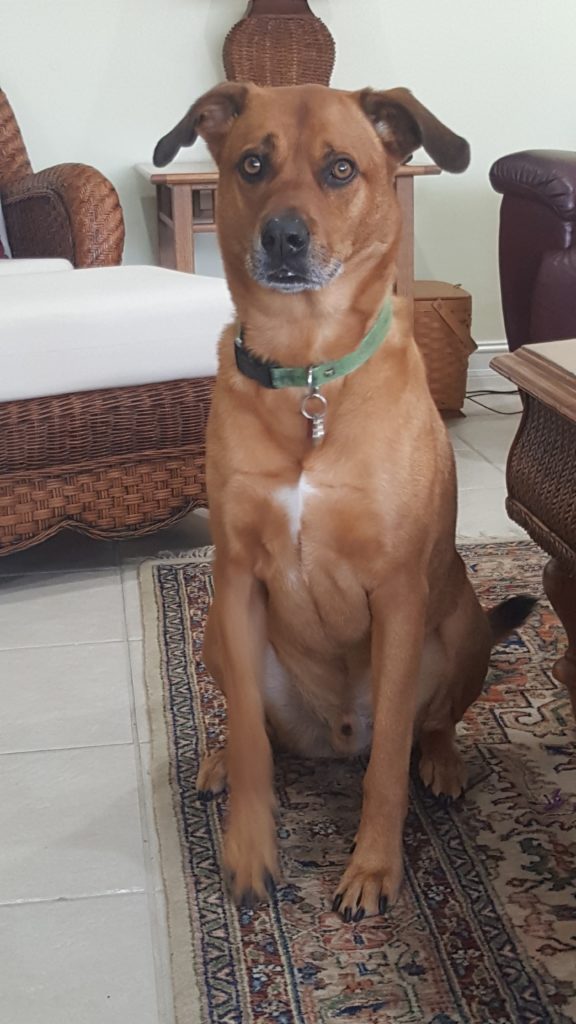 Here at Springtime, we value our Springtime Family Members (you!) more than anything. We work hard to provide you with the supplements you and your four-legged loved ones need to live long, healthy, and happy lives! To show how much we love you, we have created a "Springtime Family Member of the Month" profile where one of our lovable Springtime Family Members will be featured on our website! To have yourself, your dog, or your horse featured, please answer the questions below and email them along with a picture to feedback@springtimeinc.com with Springtime Family Member Profile in the subject line!
Here's some information about Charlie!!
What do your people parents call you? –Charlie, but my formal name is Charles Allen Plotner. My dad told me you are gathering info about me for Dog of the Month … Yabba, dabba, doo! I love this!!
How old are you?– 7 years old
From which breed do you hail? – Rhodesian Ridgeback.
What makes your tail waggle?– I love all people. I love to play. I love treats and dinner. And i love when human company comes to see me.
What's your favorite activity/pastime? -Playing and long walks with dad.
Favorite season of the year and why?– We live in South Florida. I love all seasons.
One interesting fact about yourself: – Rescued from a shelter in Columbus Ohio 12-12-2012 at 1 year old.Original owner could not provide for me with my need for attention … in a cage most of the time.I was fostered to 2 or 3 other people which did not work out because of my need for attention and activity. My parents adopted me December 2012 … It was love at first sight. I don't not have a cage now, but rather my own bedroom. I love my family.
What's your favorite Springtime Supplement product? Fresh Factors and Advanced Hip & Joint Chewables.
Some words from Charlie's parents: – Thank you, for assisting me with our order for our precious son, Charlie. His picture is attached … I told him you asked for his picture and he gladly gave me his permission to send it. He also asked me to let you know how much he likes his Fresh Factors and Advanced Hip & Joint Chewables. He thanks you from the bottom of his heart! He reports great improvement and increase in his overall energy level and joint comfort. We agree with Charlie's assessment … energy level is way up, and ability to distance walk without hip discomfort has greatly improved to the point he shows no negative symptoms vs before when his walks had to be reduced by 75% or so. We had the same experience with Charlie's older brother, Moses (RIP 2012). In our experience your products add both quality and years to our precious friends' lives. A home run!! Thanks so much. – George Plotner, Florida