What is Puppy Bowl?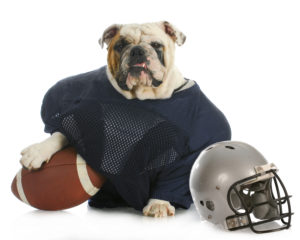 Puppy Bowl is pure fun for animal lovers everywhere! Animal Planet has hosted the annual event since 2005 and it just gets cuter every year. Puppy Bowl features two teams of lovable, adoptable puppies that play in a football themed pen. Why? Because it's unbelievably adorable!
The event has raised awareness for pet shelters across the country and has resulted in 100% adoption rates for its Puppy Bowl contestants. The puppy game takes place at the GEICO Stadium in New York and is televised live during the big game Sunday February 3rd. What better way to bring opposing football fans together on one of the most exciting days in sports than to enjoy a pack of playful puppies?
What Time is Puppy Bowl?
Puppy Bowl is traditionally aired on the first Sunday in February. For 2019, the show will kick off on Sunday, February 3rd at 3:00 p.m. ET/12:00 p.m. PT. The early time slot makes it the paw-fect, family-friendly pre-game show leading up to the big game which starts at 6:30 p.m. ET. No need to worry about missing your favorite commercials, the halftime show, or fighting over the remote!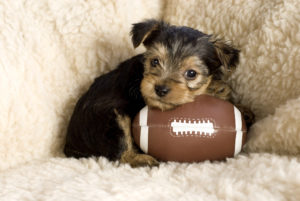 How Can You Watch Puppy Bowl?
You can cheer on the adorable puppies by tuning into either Animal Planet or Discovery Channel. Going to be away from your TV? No worries, live streaming is available on AnimalPlanet.com. However, you will need TV credentials to live stream for free.
If you don't have cable, there are other network streaming services such as DirectTV Now that offer free trials. There are also several archived Puppy Bowl episodes available to stream on AnimalPlanet.com that you can watch if you happen to miss out on game day fun!
Puppy Bowl Format
Puppy Bowl is modeled after traditional football games and features a pre-game show, real-time commentary, player bios, a half time show, cheerleaders and more! The pre-game show starts at 2:00 p.m., one hour before Puppy Bowl kicks off. Human announcers will give insight into the game, the rules, and the contestants. Each puppy has stats including their age, personalities, and even their breed from genetic testing.
Dan Schchner, who has previously hosted seven Puppy Bowls, will return again to "rufferee" with his assistant, "Shirley", the sloth. He will be responsible for keeping score of touchdowns and penalties. For a team to score a touchdown, they will have to get a football shaped dog toy to their side of the field. Penalties are given for puppies that have accidents like going potty on the field.
Halftime shows always attract a huge audience, and the Puppy Bowl is no different. Cat lovers will be excited to hear that the 2019 show will be presented by Arm & Hammer Clump & Seal. The Kitty Halftime Show will be hosted by "Adam Feline" from "Purr-oon 5." Tune in to see them chase laser lights and go crazy!
Meet the Puppies!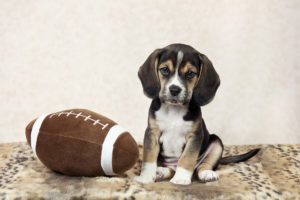 The event is more than two hours of cuteness overload, it's a huge adoption campaign to raise awareness about animal shelters all across the United States. This year, the 2019 Puppy Bowl XV will showcase 93 adorable pups from 51 shelters. They will be split up into two different starting teams; "Team Ruff and "Team Fluff". One of these teams will run, play and wiggle their way to victory and be named the Puppy Bowl XV Champions!
Animal Planet announced their puppy lineup and it has everyone talking! Not sure which team to cheer for? Well if you're a New England fan, you may prefer Team Fluff because they have "Brady", a Chihuahua-Russell Terrier mix who looks serious about playing ball.
Not a Brady fan? Check out Team Ruff, they have a lot of key players as well. If you love big dogs, you're going to love "Hank" the Labradoodle! For more information on the players, you can check out the entire starting lineup here on Animal Planet's website.
Can You Adopt the Puppy Bowl Puppies?
Yes! All the Puppy Bowl stars come from animal shelters from all over the country. If you're interested in adopting one of the Puppy Bowl pups, you can visit AnimalPlanet.com for more information. The have created several resources to help match you with the best type of dog for you and your family. They also have a list of all the participating shelters so that you can get into contact directly with those shelters.
2019 will be the second year of the spin off event, "Dog Bowl", which highlights adoptable older, adult dogs. Dog Bowl airs on Animal Planet on Saturday February 2, at 8:00 p.m. ET. This year's Dog Bowl will put the spotlight on 63 dogs from 15 different shelters that will be divided into two teams called "Team Goldies" and "Team Oldies".
The dog's range in age from 2 years old to 16 years old. The purpose is to bring awareness of all the older dogs passed over for cute playful puppies. These guys have so much to offer and need loving homes!
Conclusion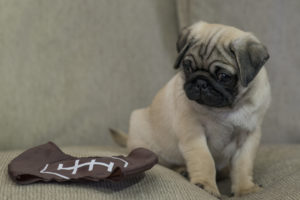 Who doesn't love sweet rescue puppies and dogs? Be sure to tune into the 15th Puppy Bowl on Animal Planet on Sunday to watch Team Ruff, Team Fluff and their adorable animal friends. It's sure to be a lot of fun for the whole family, including the fur-babies! Which team are you cheering for?
Leave a comment below!