Updated on August 17, 2022.
What is the raw food diet trend for dogs?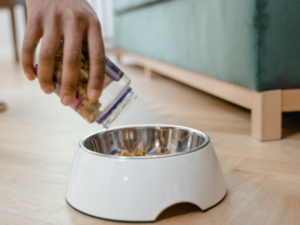 A raw food diet is a dog feeding style that attempts to imitate the whole-prey diet of a wolf or wild dog, with an uncooked preparation of raw muscle meat, organs, bone, and a blend of fruits, vegetables, and other essential nutrients. Raw feeders embrace the simple notion that if you replicate the diet that nature intended, you get a healthier dog.
Raw Food Diet for Dogs Summary
Pros:
• Better quality and amount of meat protein
• Easily Digestible (minimal waste)
• No preservatives, grains, or fillers
• Avoids the nutrient loss of cooking
• Improved overall health
• Overall improved skin and coat
• Improved breath and teeth
Cons:
• Risk of food-borne pathogens for dogs and humans
• Must be consumed within 30 minutes to avoid spoilage (not good for "grazers")
• Expensive compared to other feeding methods
• Prolonged use of high-liver raw diets can lead to vitamin A toxicity
• Whole bones can cause serious intestinal issues and injuries
• High fat-to-protein ratio can cause anemia
• Incorrect calcium-to-potassium ratio can cause health issues, especially in puppies
The Modern History of Raw Feeding Dogs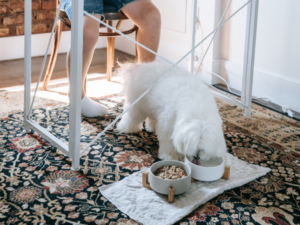 For decades, raw meat diets have been used to improve the performance of canine athletes, such as greyhounds and sled dogs. Then, in the early 1990s, raw feeding began to catch on as the biologically appropriate diet for all dogs, with dedicated owners working on perfecting their own homemade raw recipes.
Today, consumers can find a number of commercial raw dog food products in refrigerated, frozen, and freeze-dried varieties at their local pet supplies store.
Related Article: A Dog's Sense of Taste
The Benefits of the Raw Diet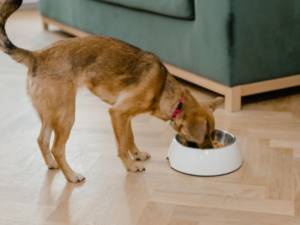 The raw dog food trend is a response to mass-produced dog food and its common shortcomings, including high carbohydrate content, lack of quality meat protein, potentially unhealthy additives, and cooking under extreme temperature and pressure.
Raw feeding seeks to correct this with an uncooked preparation that recreates the diet that dogs have evolved to consume, with a high percentage of quality muscle meat – without grains or fillers. The food is never cooked, which protects the integrity of its nutritional content.
A raw food diet is associated with various health benefits, including shinier coats, cleaner teeth, better breath, and overall improved nutrition. Because raw dog food is usually prepared at home or sold as a frozen product, there are typically no preservatives or dangerous additives. Additionally, raw food users have not experienced the same level of food recalls that have become all too common to can/kibble products.
The Risk
The handling and consumption of raw meat, even for frozen products, comes with a risk of food-borne pathogens for the dog and the owner. The food must be consumed by the dog within 30 minutes to avoid spoilage, and the feeding area must be cleaned and disinfected.
Ground bone is generally considered safe, but some raw dog food approaches recommend whole uncooked bones, which add the risk of choking, broken teeth, and intestinal blockages and punctures. Raw food diet recipes must include the proper types and amounts of organic meat, raw fruits/vegetables, and the correct calcium/phosphorous balance, or there is a risk of health issues.
Live Factors
The term "complete and balanced" on the dog food packaging means that the nutritional profile should meet the U.S. government's minimum standards for a dog's nutritional needs. Even when it meets the proper ratios, raw dog foods often lack vital nutrients dogs need for joint and immune health, but these nutrients can and should be supplemented.
To learn more about another feeding style, click one of the links below…
---
No matter which feeding style you prefer, you can replicate the diet nature intended with these all-natural supplements for dogs:
Springtime's original tasty chewable. Supports healthy joints, coat, and digestion with all-natural ingredients, including chondroitin sulfate, bee pollen, yeast culture, kelp, biotin, and beef liver.
Buy 2, Get 2 FREE!

The convenient chewable tablet supports healthy hip and joint function with the popular ingredients chondroitin sulfate, glucosamine HCL & MSM.
Buy 2, Get 2 FREE!

An economical combination of two of our best products: Fresh Factors for wide-spectrum nutrition, plus Joint Health Chewables to support joint health.
Buy 2, Get 2 FREE!
Powerful supplement blend, including chondroitin, MSM, glucosamine HCL, spirulina, and bee pollen, in a powder formula to support multiple health functions.
Buy 2, Get 1 FREE!

Chewable tablets with chondroitin sulfate, MSM, and glucosamine HCL for healthy joint support and boswellia for comfort & mobility.
Buy 2, Get 2 FREE!

Powdered formula with chondroitin sulfate, MSM, and glucosamine HCL for healthy joint support and boswellia for comfort & mobility.
Buy 2, Get 1 FREE!
Bee-collected pollen is a superfood that contains protein, vitamins, minerals, antioxidants, and live enzymes for optimal health and vitality.

An economical, single-ingredient supplement to support healthy joints and cartilage and to maintain a normal inflammatory response.

Nutritious raw blue-green microalgae to maintain the body's immune, circulatory, and detoxifying systems. Great support for normal, healthy allergy response.
Buy 2, Get 1 FREE!