Thankfully, consignment saddlery stores have become increasingly more popular throughout the country. As a kid that grew up riding, I have gone through a lot of tack and clothing. The opportunity to sell items at the local consignment shop afforded me the luxury of either buying new items or previously owned treasures. I found my first (and favorite) pair of tall boots at a consignment shop by visiting at just the right time. And, yes, I still have them!
There is no better feeling than finding the perfect luck-of-the-draw item. That's why I have listed a few of the top consignment stores around the country, so you can get into finding your first perfect consignment piece.
Equine Encore Consignment Boutique – Online (Destin, Florida)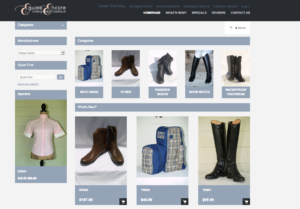 The Equine Encore Consignment Boutique is an online consignment store that is operated from Destin, Florida. Their website is set up like an online store, and is broken up into different types of products: breeches, shirts, blankets, tack and saddles, etc. They even have a seven-day trial period for their saddles. Having seven days to be sure that the saddle is the right for you and your horse is very important. Equine Encore Consignment Boutique is easy to shop, and easy to exchange. They have a large inventory of items in excellent condition, and their products are fairly priced and easy to find. Luxury items of newly conditioned boots are on display, along with structured jackets. The website requires Adobe Flash to be enabled for the full experience.
Maryland Saddlery & Consignment– Butler, Maryland; Crofton, Maryland & Hockessin, Delaware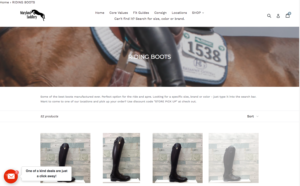 Maryland Saddlery & Consignment is a destination for horse supplies and consignment products, and it happens to be local to Springtime Supplements and its employees. Beautifully situated in Butler, Maryland, there are two stores on the property: one for new products and another for consignment saddlery, gear, and home décor. There are also two other consignment locations: one in Crofton, Maryland, and the other in nearby Hockessin, Delaware (often worth the trip, because Delaware has no sales tax!). The website is filled with great information on fitting saddles and tack. They also give updates on their website and social media for events happening in the area. If you are ever attending a local Baltimore County horse show, be on the lookout for the Maryland Saddlery truck – a necessity at a show when you have forgotten your riding pants.
Midwest Saddleseat Consignment – Lakeville, Minnesota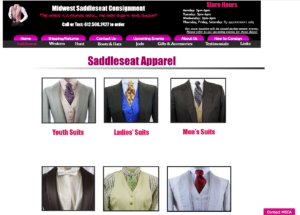 Nestled in Lakeville, Minnesota, Midwest Saddleseat Consignment is owned and founded by Jennifer Owen, a long-time rider and lover of horses. She recognized that many equestrians had closets full of unwanted but perfectly good gear, and all they needed was a place to sell it. That idea has blossomed into one of the largest equine consignment companies in the country. Even if you live nowhere near Lakeville, there's always the option to order online, including international shipping. Items are high quality, gently used, and spruced up for the next owner to adore. Shoppers can purchase hats, jackets, boots, and accessories for all disciplines. Need a new hat and tailcoat for the next fox hunt? Midwest Saddeseat has it! Check them out for your next needed (or wanted) purchases – we won't judge!
Winning Edge Saddlery & Consignment – Ocala, Florida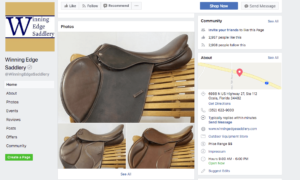 Winning Edge Saddlery & Consignment has much more than the average store. A local tack shop in Ocala, Florida, they have both a brick-and-mortar storefront and a major online presence, so you can purchase from anywhere you are located. Although they have a large selection of new items, you can buy and sell anything from tack to clothes to boots. A brief search on their website shows the information on how to consign with the store. Of course, an array of saddles is available on their website, along with the other consignment options available in their store. Winning Edge also carries products for dogs and other gifts for the horse-lover in your life. As of this publishing, their website is being redeveloped, but you can follow them on Facebook for updates at their store and pop-up locations.
The Thrifty Equine Consignment – Carson City, Nevada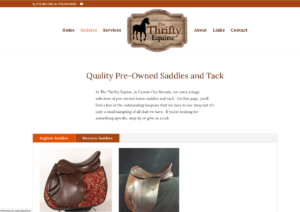 The Thrifty Equine is a one-of-a-kind stop shop that offers English and Western items, along with specialty vintage items. Products must be purchased in store, but with their highly rated customer service and devotion toward animals, I would bet The Thrifty Equine would work with anyone. And if you make the visit to their store, they will accommodate to help you with saddle fittings and tack cleaning.
A Bit Less Equine Consignment – Bend, Oregon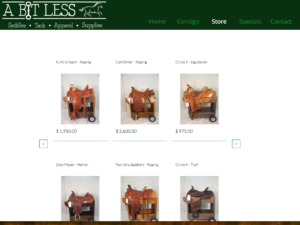 Receiving new inventory daily, A Bit Less Equine Consignment offers a variety of new and used products. Like the other consignment stores, you can take their saddles for a test drive. When you are past the date on your clothes and tack, be sure to take it over to the consignment shop. Their positive online reviews proclaim that the tack shop has great customer service and is easy and friendly to deal with.
---
Warm weather is the perfect season to tack and clothing shop. Your four-legged friend might wear the Blue Ribbon, but you get to wear your most prized consignment items. Happy hunting!
*